ThEME
The Elements
of Management Effectiveness
Overview
ThEME is an innovative, interactive tool for accessing the wisdom and practical experience of great management thinkers and practitioners - both the gurus of the past as well as today's pathfinders.
Its integrated framework helps users dig below the surface of issues and spark discussions. It helps managers highlight individual and organizational strengths as well as challenges. Most important, it guides the way to creating agile and effective businesses and nonprofits.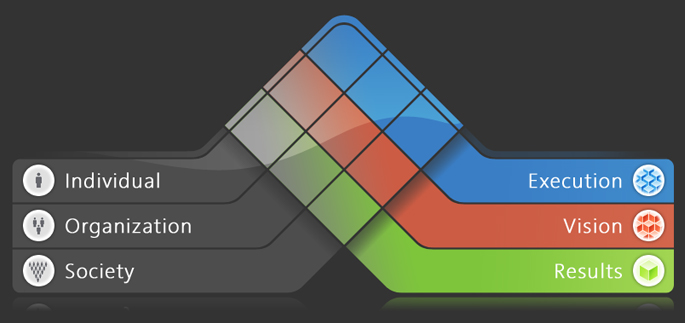 ThEME has a simple, navigable "3 by 3" design. In this 3 by 3, the "who" axis addresses people's efforts at continual effectiveness and agility in three ways: as Individuals, as members of an Organization, and as members of Society.
The "how" axis represents the repeating cycle of creative restruction - Results, Vision, and Execution.
Mendelev arrived at the Periodic Table of the Elements through a search for the "grammar" of the elements. We arrived at ThEME's structure through a search for the "grammar" of management effectiveness and agility.
Click to read the full brochure.